BP17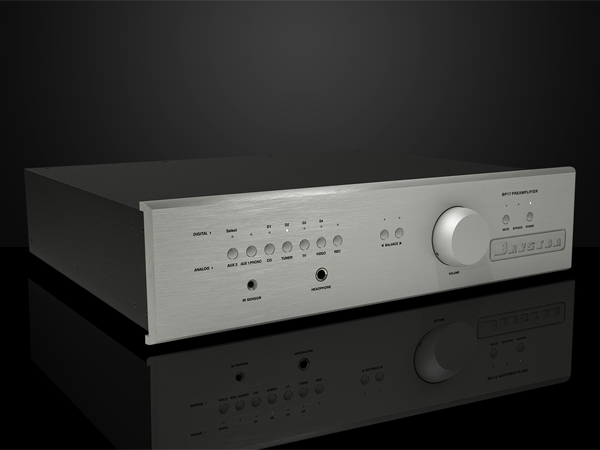 The Bryston BP17 is a state-of-the-art analog stereo preamplifier, utilizing software control which allows Bryston to provide many more features and functions. The BP17 delivers incredible sonic performance while still adhering to traditional, fully discrete, analog circuits throughout the preamplifier. The BP17 offers a dramatic improvement over the BP16 by incorporating much of the existing architecture developed for the Bryston B135 Integrated Amplifier and SP3 Surround Sound Processor.
Inputs: 8x RCA single ended pairs*, 2x optical (TOSLINK)**, 2x SPDIF (RCA)**
Outputs: Balanced XLR Pair, 3x RCA single ended pairs (Record Out, Preamp Out), ¼" headphone jack
Control: RS-232 (DB9), AUX IR
Features
Balanced and unbalanced outputs
Fully discrete class A analog circuitry
Balanced action volume control provides for both manual and remote control
Independent power supply and ground paths for analog and digital circuits.
RS-232 serial data port for remote control via Crestron, AMX or similar control systems
Relay switching on all inputs
Programmable pass through feature
Software control
Specifications
Frequency Response: 20Hz - 20kHz (+/- .05dB)
IM or THD: .003%
* Internal DAC replaces an RCA single ended pair.
**Only available with internal DAC.
Options
Available with silver or black faceplate
17" or 19" faceplate available (non-rack mountable)
Optional internal DAC (see Accessories in Other Products)
Optional Inter MM phono equalization (see Accessories in Other Products)
BR2 remote control available (see Accessories in Other Products)